16,844 of 25,000 signatures
To public managers, national, regional and local political leaders.
This petition is run by Mesa de Defensa de la Sanidad Pública de Madrid (MEDSAP), Marea Blanca, and captures the content of the various statements it has issued during the pandemic. [1]
Petition text
Spain has been one of the countries hardest hit by the COVID-19 pandemic and everything points to a second wave of coronavirus being inevitable. This counry has suffered austerity measures for years and there are important factors that lead us to where we are now. This situation may get worse, and we have already seen first-hand the shortcomings of our public healthcare system. We therefore call on our leaders to:
Provide the Spanish public healthcare system with more human and material resources because this pandemic does not end here.
Reject austerity policies and the increasing mercantilisation of the Spanish public healthcare system.
Refrain from making empty promises for pure political purposes and to shield our public healthcare system.
Why is this important?
Over the past few months we have seen collective applauses in tribute to healthcare workers spread throughout the country. Part of the reason why health workers are struggling is because public services have been underfunded for years. Banks were rescued, while hospitals were relegated to the background. It is time to demand strong public healthcare - public and universal.
This pandemic has shown us that if our public healthcare system collapses, our society and economy will follow. We must protect public health; citizens have the right to a strong health system that is equipped with sufficient means to face the health challenges that the future holds. For all these reasons, we demand that public managers and political leaders in charge of the Spanish public healthcare system put an end to:
PRIVATIZATION
Madrid, Catalonia, the Balearic and Canary Islands, and the Basque Country are the communities with the highest levels of healthcare privatization. [2] The Associations in Defense of Healthcare (Asociaciones para la Defensa de la Sanidad Pública, Fadsp, in Spanish) has already warned that privatization "has extended to the entire system" and not only increases the cost but also favors inequality among citizens. [3]
Since the transfer of competences, Madrid has shown a clear strategy of privatising the public healthcare system and this has undoubtedly taken its toll, as it has been the community most affected by the current pandemic. [4]
Therefore, we must demand an end to the mercantilist model, since privatization models have proven to be more expensive and unfair to citizens. It is time to recover and strengthen the public healthcare system, the only one capable of guaranteeing health for the entire population. We need to reverse the privatization - because "to deprivatize is to start healing" (MEDSAP).
LACK OF INVESTMENT
Over the last few years, the reduction in public healthcare personnel, beds and the failure to modernise and adapt our hospitals and clinics has been constant. Now more than ever we are suffering the consequences of the lack of investment, both in health and in research in our country.
Our public healthcare system has been totally overwhelmed by COVID-19. Not only has our system not been able to attend to all those most affected by the pandemic, but there has also been an increase in waiting lists for other pathologies, which, as they could not be attended to during the pandemic, have seen their illnesses worsen.
Public health budgets have been decreasing in recent years and today, Spain is below the European average in health spending. [5] We must reverse the austerity measures of the last decade and demand:
The strengthening of Community Primary Care, the fundamental basis of the system.
A reinforcement of new recruitment of more public healthcare personnel.
Increased funding for research.
Enough tests and means to be able to track chains of infection and prevent new outbreaks of COVID-19.
That health personnel and other workers are provided with adequate protective equipment.
Plans for follow-up and assistance to professionals who have suffered and are suffering in the front line of this pandemic, who have already reported on several occasions the fatigue and emotional stress they suffer, as well as relief of personnel to give them time to recover.
EMPTY PROMISES
Political leaders of all colours and from all communities have made numerous declarations of intent during this pandemic and much of it has remained in plain words that have not been carried out.
They have promised everything from daily tests for health workers, to hiring more healthcare workers specialized in epidemics; from renewing contracts for workers at the "IFEMA hospital", to antibody tests, rapid tests, and masks approved for citizens.
In short, we call for these promises to be fulfilled and for the accelerated race of declarations of intent with the sole aim of moving on to the next stage not to be forgotten.
References:
https://mesaendefensasanidadpublica.wordpress.com
https://www.infolibre.es/noticias/politica/2019/04/29/el_mapa_privatizacion_sanitaria_asi_avanza_negocio_sistema_cada_comunidad_93638_1012.html
https://www.infolibre.es/noticias/politica/2019/03/30/quirofanos_publicos_desaprovechados_derivaciones_privada_asi_avanza_concertada_con_las_listas_espera_92688_1012.html
http://www.fadsp.org/index.php/observatorio-ccaa
https://www.eldiario.es/madrid/Radiografia-colapso_0_1036947009.html
https://www.eldiario.es/sociedad/camas-faltan-Madrid-privatizaciones-gestionadas_0_1008599192.html
https://ec.europa.eu/health/sites/health/files/state/docs/chp_es_spanish.pdf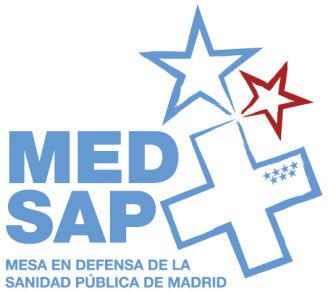 Thanks for signing! Your signature has been added.