111,080 of 125,000 signatures
To national EU governments
This petition is run by PATAGONIA
Petition text
Bottom trawling is bulldozing our ocean floor, undermining small-scale fisheries, and deepening the climate crisis. Let's end this destructive practice, starting with an immediate ban on bottom trawling in Marine Protected Areas and inshore zones. 
Why is this important?
Bottom trawling is one of the most damaging practices that humans inflict on our oceans, destroying seabed ecosystems, overfishing and indiscriminately killing everything from turtles and rays to sharks.
Bottom trawling has an enormous climate impact too. Dragging nets along the seabed uses more fuel and produces four times more emissions than other types of fishing. It disturbs carbon-absorbing sediment and eradicates the marine plants and animals that take in carbon from the atmosphere.
Oceans absorb a quarter of all the carbon dioxide that we produce, yet the practice of bottom trawling threatens to destroy this precious resource. We must protect our ocean so it can protect us. 
What about Marine Protected Areas and Inshore Zones? 
Bottom trawling is rife in the most vulnerable places. Marine Protected Areas (MPAs), established to protect ocean diversity, are no longer refuges where fish can reproduce and recover. Even worse, trawling happens more intensely in MPAs than in non-protected areas across Europe.
And near coastlines, bottom trawling dramatically reduces available catch for small-scale fishers, using alternative, lower-impact gear. These smaller vessels make up the majority of Europe's fleet (almost 80%) and account for half the people employed in the fishing sector, but they just can't compete.  
What should European governments do? 
Our leaders have committed to halting the climate and biodiversity crises by 2030 and set us on a path to net-zero and nature recovery. Citizens everywhere call on national governments to make good on these commitments by enforcing existing environmental laws, supporting those who will be impacted and protecting the ocean. 
Find out more
patagonia.com/oceans
FAQs on bottom trawling (Transform Bottom Trawling)
Bottom trawling and the climate crisis (Transform Bottom Trawling)
New perspectives on an old fishing practice: Scale, context and impacts of bottom trawling (Our Shared Seas)
Impacts of bottom trawling (Oceana Europe)
Bottom trawling and climate (Seas at Risk)
"Why is Doggerland Foundation participating in this Ocean campaign" (Doggerland Foundation)
Supported by: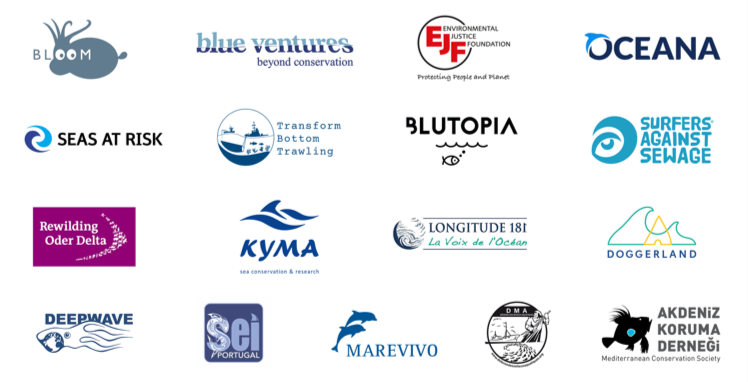 Thanks for signing! Your signature has been added.